About Us
Arabesque Hookah Cafe and Restaurant serves fresh, delicious Middle Eastern cuisine. The term "Arabesque" has over 13 definitions in the Arabic language. The most popular definition is the Arabesque decor emphasizing interconnectedness. Arabesque Hookah Cafe & Restaurant is proud to provide not only a service but also an experience that bridges Middle Eastern culture and values to the heart of Winnipeg. At Arabesque you are guaranteed to have an authentic savory taste of the Middle East. Satisfaction guaranteed! Try our Arabesque Shawarma Poutine, Falafel Plate, or Mahamara Pizza, and a piece of Pistachio or Walnut Baklava for dessert!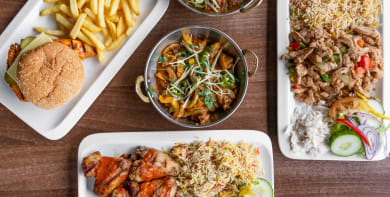 Reviews
"The food is f**king delicious. Thank you very much"
2022-04-08
Menu
Contact Us
Find Us
201-659 Corydon Avenue, Winnipeg, MB, Canada, Winnipeg, R3M 0W3
Opening Hours
Monday
5:00 PM - 11:00 PM
Tuesday
5:00 PM - 11:00 PM
Wednesday
5:00 PM - 11:00 PM
Thursday
5:00 PM - 11:00 PM
Friday
5:00 PM - 11:00 PM
Saturday
5:00 PM - 11:00 PM
Sunday
5:00 PM - 11:00 PM
Please note, delivery times may vary.
We deliver to
R0G, R2C, R2H, R2J, R2K, R2L, R2M, R2N, R2V, R2W, R2X, R3A, R3B, R3C, R3E, R3G, R3H, R3J, R3L, R3M, R3N, R3P, R3R, R3S, R3T, R3W, R3X, R3Y